This memorial website was created in memory of our beloved daughter Vanessa Faith Barnai born June 6, 2006 sleeping peacefully like an angel in the arms of our lord. She will be forever in our hearts.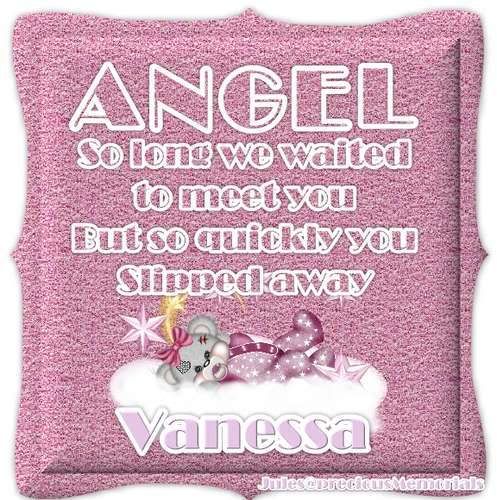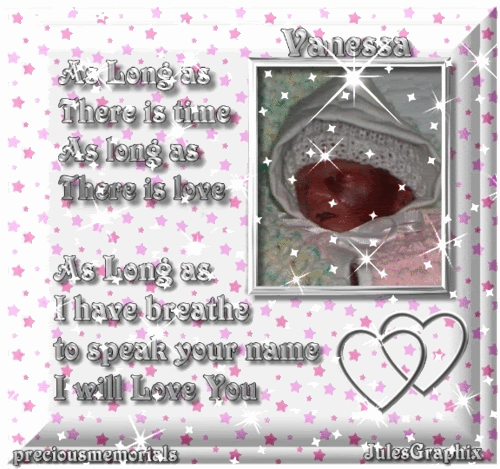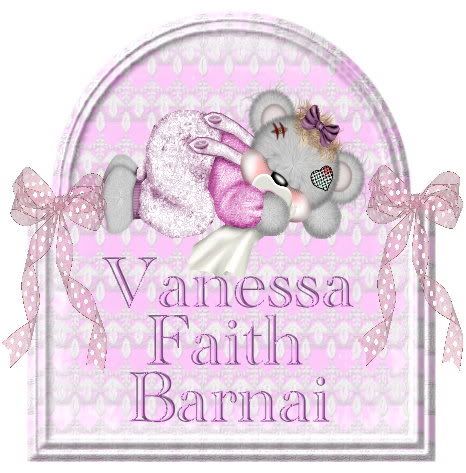 The Story of
Vanessa Faith Barnai

In January of 2006 we learned the news that we had been praying for, we were going to have another baby! We were overwhelmed with joy and excitement for we had been trying to conceive for several years. If the great news wasn't enough, I was going to go through my pregnancy 1 month apart from my sister. What a bonding experience it was going to be, to share all the emotions, to be there for one another. The excitement was short lived as I started to experience severe pains in my abdomen and lower back. My husband took me to the hospital to find out what was causing the pain. The doctor ordered blood work and an ultrasound and offered possible problems without giving a specific diagnosis. All tests came back normal and the doctor gave me some pain medication and released me, but warned us to return to the hospital if the pain returned. A couple days later the pain did return and seemed to be more intense. We made our way back to the hospital for the second time. The triage nurse admitted us right away as she feared that I might have a tubal pregnancy. Again, blood work and ultrasounds were done and pain medication given, but everyting apeared to be fine. We went back home only to return to the hospital the next day. This time the doctor was more intent on finding out what the problem was. Tests were perfromed again and this time a shadow was seen in the ultrasound which prompted the doctor to express concern about a tubal pregnancy again. The ultrasound also showed a pregnancy in the uterus. Through all these visits to the hospital, the blood tests taken had indicated a viable pregnancy as the hormone levels had steadily increased each test. The doctors had speculated that I was going to miscarry because of all the pain I was experiencing, but they were wrong. At this point, the doctor thought I should see the oncall O.B. as I was still experiencing severe pain. The doctor also recommended that I take some heavier pain medication to offer me some comfort. Our fears and anxiety were now at very high levels, we didn't know what was going to happen to the baby that we so desperately wanted. The O.B. felt that the pregnancy wouldn't last and wanted to keep a close eye on me, so he admitted me to the hospital. Over the next day and a half, regular examinations were done and blood work taken. The results continued to confuse doctors as my cervix remained closed, there was still no bleeding and my hormone levels continued to rise. Every time I had blood work taken and we were told that the hormone levels had gone up, we would feel a sense of hope that things would turn out OK. The next morning another ultrasound was done to check on the development of the fetus and to try and determine what the shadow in the tube was. Later that morning our family doctor visited us and offered some insight and advice for us to take into consideration when making any decisions The results came back and the O.B. told us that our baby didn't have a fetal heart beat and recommended that a scope be done to investigate the shadow which they beleived was causing the pain and at the same time to have a D&C. We felt that the scope was a good idea to make sure that there wasn't a tubal pregnancy, but after the advice given to us from our family doctor and close family, we didn't feel that it was time to end the pregnancy. The scope was done and revealed that there was no tubal pregnancy and that the shadow was a cyst. Still trying to offer some releif from the pain, the doctor gave me an enima because I was severely constipated. Almost immediately I felt releif from the pain and the doctors were confident that this was the cause of my pain from the beginning. Later that day I was released and finally got to go home. The doctor wanted me to rest at home and to go for regular exams and blood work. In those visits the results of the blood work showed the hormone levels continuing to rise. Our family doctor had been telling us that increasing hormone levels were an excellent sign of a viable pregnancy. Finally we were getting some good news which helped to restore our faith. Our next ultrasound was scheduled for February 14th....Valentine's Day. This was symbolic of the day because we were going to find out if there was a fetal heartbeat and ultimately a viable pregnancy. Valentine's Day was already a special day to us as many significant events have happenned on that day. We got engaged to be married, we went for a non-stress test for our first child, and now the ultrasound for this pregnancy. We were overjoyed with the news we received, there was a heartbeat and it was strong, we made the right decision, all our hope was restored from that moment. We learned that our due date would be October 5th 2006. After the ultrasound we returned to regular prenatal check ups. For the first time, things seemed to be normal and we could look forward to the rest of the pregnancy. When I went for my 13 week check up, my daughter Kendra and I heard the most beautiful sound, a beating heart. At that point I had a sense that everything was going to be OK. The time came for the next ultrasound. This time we were all in the room together and got to see the baby moving around and the heart beating so strongly. A few days later our family doctor called us with some worrysome news. He had explained that the ultrasound showed a sac on the back of the brain and mentioned that there was blood leaking around the heart. His concern seemed to be more focused on the cyst and wanted us to go to McMaster Hospital in Hamilton for more specialized care. That was the day that our lives would change forever. Another ultrasound was done at Mcmaster and right from the start we knew that something wasn't right because the ultrasound took over 2 hours and several doctors to complete the scan. After the ultrasound we were sent to the neonatal clinic for the results. We remember waiting in the room, afraid of what the results would bring. When we were told everything that was wrong with our baby, we both had the most empty feeling in our stomachs and our hearts ached like never before. The ultrasound showed a dandy walker cyst on the brain, an elastoplastic left heart (meaning that there was only half of a heart developed), excess fluid on the back of the neck, and several physical abnormalities. The doctors assesment was trisomy 13 or 18 both of which are given a hopeless outcome. We had the amniocentisis test done the same day so we could be given a definite answer on whether the problems were a chromisone issue or not. The results came back negative to the shock of the neonatal staff and to us. We wondered if the findings in the ultrasound were inaccurate or not as severe as originally anticipated. To our sadness the prognosis wasn't any better than before. We had requested a meeting with the genetisis and cardiologist to give us all the information possible in order to make the most difficult decision of our lives. The genetisis had given us more devestating information in that the chance of the pregnancy going to term was less than 5% and that if our baby would pass away pre-term that there could be complications with my health. The cardiologist didn't give us any better of a prognosis in that if the baby survived birth, immediate and several operations would be needed. We returned home with all the information that had been given to us. In the next couple of days we consulted with family members, and our priest to discuss the options. We had decided that the pregnancy needed to be interrupted for the well being of my health. Without a doubt the most gut wrenching and emotionally distressing decision a parent could ever make. On June 5th 2006 at six & a half months pregnant, I was admitted to hospital and had labour induced. I have never been more afraid in my life, my precious child that I wanted so bad and loved so much was going to die. I felt her move in me and i just didn't understand how I was ever going to get through this. That night, when my water broke I was so scared of what was about to happen. I had to say good-bye to my precious baby before I ever had the chance to say hello. Vanessa Faith Barnai was born sleeping on June 6, 2006, a beautiful angel sent to us from God. She weighed .9 lbs and was 11 inches long and she looked so peaceful and perfect in every way. Our hearts were broken that day. We will cherish the six months that we had with our angel forever. We heard her strong little heartbeat, I felt her move inside me and I will never let that feeling go. To this day we haven't received any explanation as to why Vanessa had all these complications. We will always put our trust in God and ask him to keep our Vanessa close to him. Even though she is not here in person, her spirit lives strong within our hearts and minds.





Some people only dream of angels,
we got to hold one.



What Makes A Mother /
I thought of you and closed my eyes
And prayed to God today.
I asked what makes a Mother
And I know I heard him say.


A Mother has a baby
This we know is true.
But God can you be a Mother
When your baby's not with you?


Yes, you can He replied
With confidence in His voice
I give many women babies
When they leave is not their choice.


Some I send for a lifetime
And others for a day.
And some I send to feel your womb
But there's no need to stay.


I just don't understand this, God
I want my baby here
He took a breath and cleared His throat
And then I saw a tear.


I wish I could show you
What your child is doing today.
If you could see your child smile
With other children and say


"We go to earth and learn our lessons
Of love and life and fear.
My Mommy loved me oh so much
I got to come straight here.


I feel so lucky to have a Mom
Who had so much love for me
I learned my lesson very quickly
My Mommy set me free.


I miss my Mommy oh so much
But I visit her each day.
When she goes to sleep
On her pillow is where I lay.


I stroke her hair and kiss her cheek
And whisper in her ear
"Mommy don't be sad today
I'm your baby and I'm here."


So you see my dear sweet one
Your children are OK
Your babies are here in My home
And this is where they'll stay.


They'll wait for you with me
Until your lesson is through
And on the day that you come home
They'll be at the gates for you.


So now you see what makes a Mother
It's the feeling in your heart.
It's the love you had so much of
Right from the very start!!!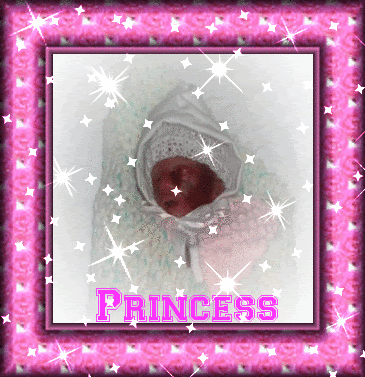 GOD'S LITTLEST ANGEL

Mommy and Daddy don't cry for me.
To walk the earth was not meant to be.
I'm in God's house you see.
I watch over you every day.
I know that you love me in a very special way.
You wanted me to be healthy and whole,
So you had to let me go.
You will get to see me every day
As you look at the children who past your way.

I may be the little boy with the dimple in his chin
Or the little girl with the golden curl.
You will know what you did is right Because
When you look in the sky on a clear star filled night,
I will be the star that is shining so bright.
I love you Mommy and Daddy good night.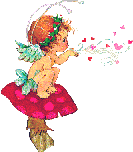 SISTERS FOREVER

IT SADDENS ME THAT YOU'LL NEVER KNOW YOUR BIG SISTER BOO;
BUT I CAN TELL YOU SOMETHING SHE HAS SO MUCH LOVE FOR YOU.
SHE KNOWS YOUR UP IN HEAVEN WITH OUR LORD ON HIGH;
BUT IT DOESN'T MAKE IT EASIER FOR HER TO SAY GOOD-BYE.
I KNOW SHE WANTED TO HOLD YOU, TO HUG YOU AND PLAY;
TO GIVE A MILLION KISSES EVERY SINGLE DAY.
SHE HAD A SPECIAL NAME FOR YOU, MARSHMELLOW SHE'D SAY;
SHE'D GIVE MY TUMMY KISSES, THEN GO ABOUT HER WAY.
SHE WAS SO EXCITED TO BECOME YOUR BIG SIS;
THAT'S WHY IT'S SO HARD BECAUSE YOU'RE TRULY MISSED.
EVEN THOUGH YOUR NOT HERE, YOU MAY NEVER KNOW;
THAT KENDRA'S LOVE FOR YOU WILL NEVER STOP, BUT REMAIN TO GROW.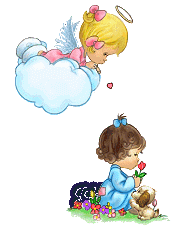 Vanessa sending Kendra kisses
xoxo







Don't tell me that you understand,
don't tell me that you know.
Don't tell me that I will survive,
How I will surely grow.



Don't tell me this is just a test,
That I am truly blessed.
That I am chosen for the task,
Apart from all the rest.



Don't come at me with answers
That can only come from me,
Don't tell me how my grief will pass,
That I will soon be free.



Don't stand in pious judgment
Of the bonds I must untie,
Don't tell me how to grieve,
Don't tell me when to cry.



Accept me in my ups and downs,
I need someone to share,
Just hold my hand and let me cry,
And say, "My friend, I care."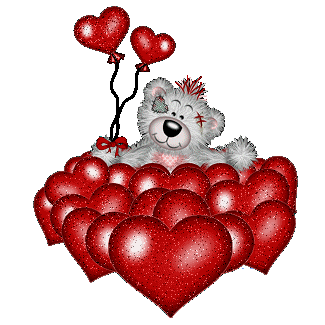 MY ANGEL

MY SPECIAL ANGEL WHO LIVES UP HIGH;
I NEVER WANT TO SAYGOOD-BYE.
I KNOW RIGHT NOW WE ARE APART;
BUT YOU LIVE ON WITHIN MY HEART.
I WISH YOU WERE HERE TO HOLD & TO TOUCH;
MY SWEET VANESSA I MISS YOU SO MUCH.
MOMMY, DADDY AND YOUR SISTER BOO;
HAVE SO MUCH LOVE FOR YOU.
SOMEDAY MY ANGEL I'LL BE WITH YOU WHEN THE TIME IS RIGHT;
I'LL COME TO HEAVEN AND HOLD YOU SO TIGHT.
UNTIL THAT TIME IT WILL BE SO HARD NOT TO HAVE YOU HERE;
I KNOW YOU'RE AN ANGEL, SO I KNOW YOU ARE NEAR.

ALWAYS IN MY HEART,
MOMMY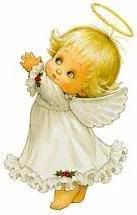 Ask my mum

Ask my mum how she is
my mum, she tells alot of lies
she never did before
but from now untill she dies
she'll tell a whole lot more



Ask my mum how she is
and becouse she cant explain
she will tell a little lie
because she cant describe the pain



Ask my mum how she is
she'll say "im alright"
if thats the truth then tell me,
why does she cry each night



Ask my mum how she is
she seems to cope so well
she didnt have a choice you see
nor the strength to yell



Ask my mum how she is
"im fine,im well,im coping"
for gods sake mum just tell the truth
just say your heart is broken



She'll love me all her life
i loved her all of mine
but if you ask her how she is
she'll lie and say im fine



I am here in heaven
i cannot hug from here
if she lies to you dont listen
hug her and hold her near



On the day we meet again
we'll smile and i'll be bold
i'll say your lucky to get in here mum,
with all the lies you told!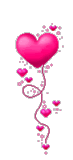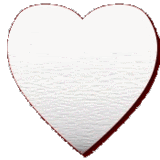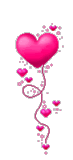 I am still a Mummy; I was a Mummy from the start.
What makes me a Mummy is that feeling in my heart.
Pregnant I was, there was a baby inside me.


For some Mummy's all it takes is to know, they have planted that seed.


There is a bond that takes place from the moment that you know.


Inside of your body someone special has started to grow.
My baby didn't make it; she is in Heaven up above.
In my heart I'm still her Mummy, I am filled with endless love.


Something happens to a woman when her seedling starts to grow.


Unless you have felt these feelings it is impossible to know.
She meant the world to me and I will never be the same.
All I need is for you to listen when I wish to say her name. She may be gone but she's not forgotten I miss her each and every day.


Could you imagine that it would be any other way?
What kind of Mummy would I be if I forgot my little one?
I had planned my whole life around her, all the great things we would have done. I may have another child, possibly another two.


There is something I know for certain, she will always be my second child, my daughter, and I her Mummy too.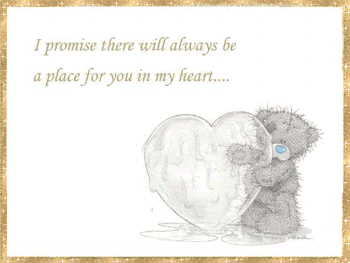 Although I cannot hold you in my arms
You will be forever held
Deep within my heart.
Although I cannot see you with my eyes,
I will picture you always in my mind,
Of what was, and what could have been.
Know that you are loved,
And that you made a special place
Within my life and I will cherish you always.






I carried you so lovingly,
within my gentle womb...
and little did I realize,
your life would end too soon.



I never got the chance to say
"I love you, little one"...
before I held you in my arms,
your life on earth was done.



The grief is indescribable,
to lose a child this way...
all the many hopes and dreams,
just vanished on that day.



I know I'll see the sun shine bright
upon my baby's face...
when I finally get to heaven,
all my pain will be erased.



We'll soar the skies together,
as angels two by two...
we'll have a sweet reunion
a mother's dream come true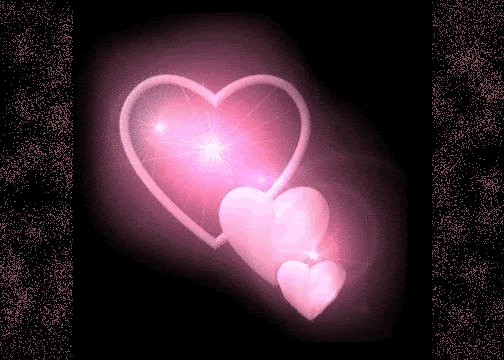 A MOTHER'S LOVE

PRECIOUS BABY SO INNOCENT, SO SWEET;
WE BARELY HAD A CHANCE TO MEET.
WE HUGGED, TOUCHED AND LOVED YOU SO;
BUT THEN WE HAD TO LET YOU GO.
THE HARDEST THING I HAD TO DO;
WAS SAY GOOD BYE TO PRECIOUS YOU.
I'LL THINK OF YOU ALWAYS AND WISH YOU WERE HERE;
BUT I KNOW MY SWEET ANGEL YOU'LL ALWAYS BE NEAR.
I FEEL SO EMPTY BECAUSE YOU ARE GONE;
I DON'T UNDERSTAND HOW TO MOVE ON.
I WANTED YOU SO VERY BAD;
AND AT THIS MOMENT I'M VERY SAD.
YOU'RE NOT HERE TO HOLD, TO KISS OR TOUCH;
MY PRECIOUS ANGEL I'll MISS YOU SO MUCH.
YOUR HANDS, YOUR FEET, YOUR BEAUTIFUL FACE;
ARE NOW JUST A MEMORY IN MY SPECIAL PLACE.
I KNOW YOU ARE RESTING AND THAT WE ARE APART;
BUT MY PRECIOUS BABY GIRL, YOU'LL ALWAYS BE DEEP WITHIN MY HEART.

LOVE YOU ALWAYS,
YOUR MOMMY







We thought of you today,
But that is nothing new
We thought of you yesterday
And will tomorrow, too



We think of you in silence
And make no outward show
For what it meant to lose you
Only those who love you know



Remembering you is easy
We do it everyday
It's the heartache of losing you
That will never go away.









Don't cry for me Daddy
I am right here
Although you can't see me
I see your tears



I visit you often
Go to work with you each day
And when it's time to close your eyes
On your pillows where I lay



I hold your hand and stroke your hair
And whisper in your ear
If you're sad today Daddy
Remember I am here



I am Daddy's little girl
We will never be apart
For every time you think of me
Please know I'm in your heart.



I Love you Daddy!
Your Baby Girl


















Precious, tiny, sweet little one
You will always be to me
So perfect, pure, and innocent
Just as you were meant to be.



We dreamed of you and your life
And all that it would be
We waited and longed for you to come
And join our family.



We never had the chance to play,
To laugh, to rock, to wiggle.
We long to hold you, touch you now
And listen to you giggle.



I'll always be your mother.
He'll always be your dad.
You'll always be our child,
The child we never had



But now you're gone...but yet you're here.
We'll sense you everywhere.
You are our sorrow and our joy.
There's love in every tear.



Just know our love goes deep and strong.
We'll forget you never
The child we had, but never had,
And yet will have forever.




We do not need a special day
To bring you to our minds.
The days we do not think of you
Are very hard to find.



Each morning when we awake,
We know that you are gone.
And no one knows the heart ache
As we try to carry on.



Our hearts still ache with sadness
And secret tears still flow.
What it meant to lose you
No one will ever know.



Our thoughts are always with you,
Your place no one can fill.
In life we loved you dearly;
In death we love you still.



There will always be a heartache,
And often a silent tear.
But always a precious memory
Of the days when you were here.



If tears could make a staircase,
And heartaches make a lane,
We'd walk the path to heaven
And bring you home again.



We hold you close within our hearts;
And there you will remain,
To walk with us throughout our lives
Until we meet again.



Our family chain is broken now,
And nothing seems the same,
But as God calls us one by one,
The chain will link again.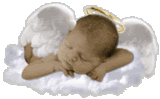 If I could have a lifetime wish,
A dream that would come true,
I'd pray to God with all my heart
for yesterday and you.
A thousand words can't bring you back;
I know because I've tried.
And neither will a million tears,
I know because I've cried.
You left behind a broken heart
And happy memories too.
I never wanted memories,
I only wanted you.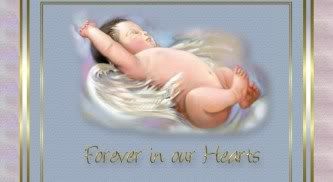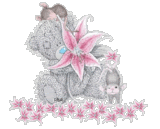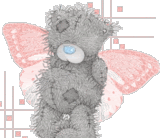 I never got to hear you laugh
you never saw me cry
didnt get a chance to say "Hello"
you never said "Goodbye"
I didn't think that I could feel
so sad, lost and forlorn.


I never knew God chose his Angels
before some of them were born.
Your life was short yet special
I shared it all exclusively
I felt you breathe, I felt you kick.
You were alive inside of me.


Every baby is an Angel
and every angel is divine
God needed one in heaven
He came down and took mine
And although we are not together
we're not really apart
for you'll always occupy a space
deep within my heart.


Time has begun to ease my pain
It's only some days now I cry.
When I wish I could have said "Hello"
and heard you say "Goodbye"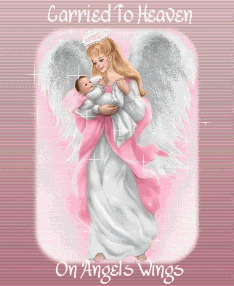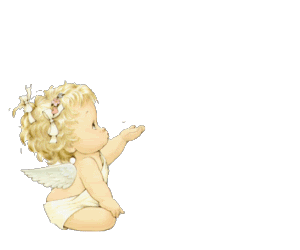 Vanessa sending us butterfly kisses
XOXOXO







My mom is a survivor,
or so I've heard it said.
But I can hear her crying at night
when all others are in bed.
I watch her lay awake at night
and go to hold her hand.
She doesn't know I'm with her
to help her understand.



But like the sands on the beach
that never wash away...
I watch over my surviving mom,
who thinks of me each day.



She wears a smile for others...
a smile of disguise!
But through Heaven's door I see
tears flowing from her eyes.



My mom tries to cope with death
to keep my memory alive.
But anyone who knows her knows
it is her way to survive.



As I watch over my surviving mom
Through Heaven's open door...
I try to tell her that angels
protect me forevermore.



I know that doesn't help her...
or ease the burden she bears.
So if you get a chance, go visit her...
and show her that you care.



For no matter what she says...
no matter what she feels.
My surviving mom has a broken heart
that time won't ever heal.




Don't think of her as gone away-


her journey's just begun,



Life holds so many facets-
this earth is only one.



Just think of her as resting
from the sorrows and the tears,
in a place of warmth and comfort
where there are no days and years.



Think how she must be wishing
that we could know today
how nothing but our sadness
can really pass away.



And think of her as living
in the hearts of those she touched...
for nothing loved is ever lost-
and she was loved so much.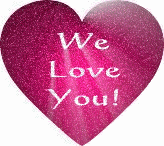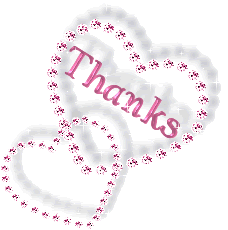 Thank you for visitng Vanessas memorial site, please lite a candle or sign her Tributes/Condolences page in memory of our angel.









Here are some of Vanessas angel friends Memorial sites please
take a look.

www.angel-amelia.memory-of.com
www.calum.memory-of.com
www.caseyjamesbaptist.memory-of.com
www.alysia-sinclair.memory-of.com
www.laura-porter-1995-2005.memory-of.com
www.paige-leigh.memory-of.com
www.Kayla-evelyn.memory-of.com
www.olivia-young.memory-of.com